About Us
Running Shoes & toefreedom®
We use technology in support of the ultimate architect - Mother Nature. We use innovation and biomechanics to enhance her near-perfect design. We would never try to bend her creation to fit a shoe that is imperfect for her intent of freed toes that propel us all forward.

History
30 years ago, a young high-school cross country runner started wearing a bulky shoe with toefreedom® during his workouts and races. He started showing the concept to running specialty stores in the US: the owners just laughed. Runners were not yet prepared but the seed for the vision was planted. The dream has turned into a reality. Runners all over the globe start embracing the tangible benefits of toefreedom®.
Manifesto
We make shoes for runners. Running is what Joe Nimble is born from, running is who we are, and runners are who we serve. It´s the run that fuels us, and it is for those who run that we work tirelessly to improve it. Because running is life, and we support the run for a lifetime.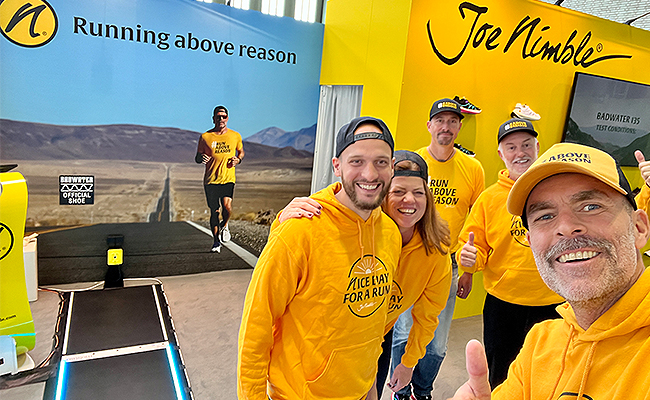 Events
We are runners. We are a unique community that thrives together. We learn from running and from people like us. We work hand-in-hand with those we serve to advance a way of life. Together, we will continue our purposeful journey to support, protect and promote a lifetime of running. See you out there...