Innovation nmblFoam®
Direct injection for runners
In manufacturing the nbmlFoam® sole for the Ultreya® and Pilot 1, Joe Nimble became the first running shoe manufacturer in the world to bring a revolutionary process to production readiness: our resilient, high-energy return soles using the innovative Direct Injection process, eliminating unnecessary waste and reducing energy and water consumption during manufacturing.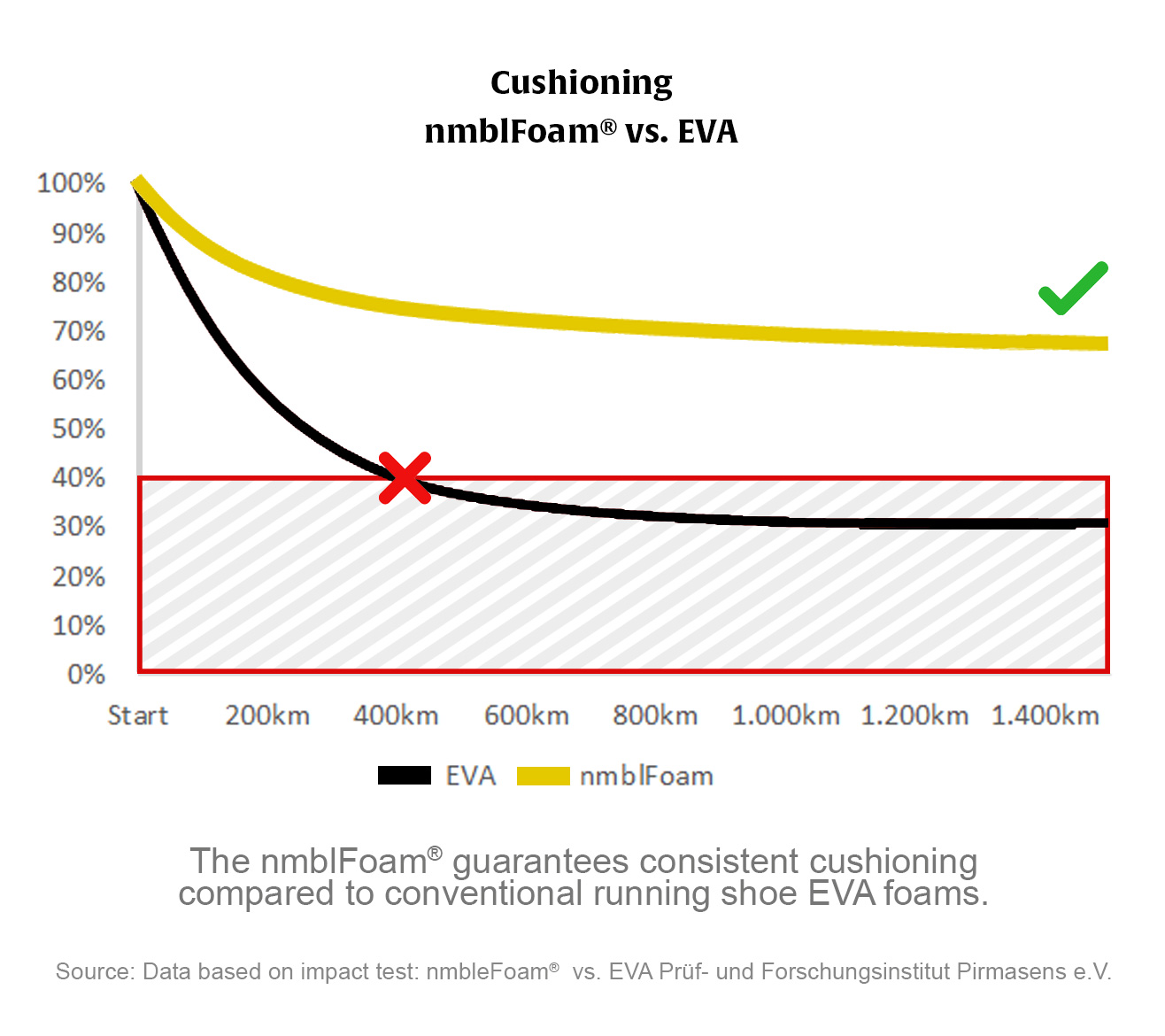 Our worldwide unique nmblFoam® makes the difference.
The innovative nmblFoam® guarantees consistent cushioning behavior and a significantly increased compression set compared to conventional running shoe EVA foams: where others already drop significantly in performance after 200km and are replaced after 500km, the values remain continuously constant up to over 1,400km.
Direct Injection:
Injection instead of gluing
Direct Injection means that the soles are no longer glued, as has been common practice in the industry up to now, but injected directly into a mold. This has advantages for runners and for the environment:

We save water and energy because the sole no longer has to be heated or melted


We do not use adhesives, which can negatively affect the cushioning in the shoe by providing an additional intermediate layer or stiffening bonded materials


We improve the connection between the sole and the upper because the midsole bonds firmly to the upper during production


The advantages of PU
the continuous dense foam is characterized by a deep and above all permanently consistent energy return


ten times higher compression set (ability to return to its original shape) than conventional EVA foams


longer durability


hydrolysis free (advantage in hotter or more humid climates)
Automation reduces carbon footprint
Highly automated manufacturing also allows Joe Nimble to profitably move production of the Ultreya® back to Europe. This makes us less dependent on supply chains. And it brings us closer to the goal we aim for with every new development step: to produce our shoes in a CO2-neutral way for the foreseeable future.